PRESS
Sometimes we get so busy that we miss things, like this sweet little shout out in Fragrantica's 2015 Best Of list. A heartfelt thanks to our friend Jodi for including Broken Glass. For more recent news, you can read her review of Y06-S.

FRAGRANTICA Editors' Favorites of 2015
by: Elena Knezhevich
This year we would like to list the personal perfume favorites of 2015 of our Fragrantica editors. We all have different fields of expertise and interests, we live in different countries and participate in different perfume events. But we love what we do and gladly share our personal unbiased opinion of what we think is best among the numerous perfume launches.
| | |
| --- | --- |
| Bvlgari Aqva Divina - Oh how I fell in love with this salty magnolia! If only Bvlgari would launch an extreme or parfum extrait version! I'd love Divina to be even longer-lasting and richer! | |

| | |
| --- | --- |
| Givenchy Pi Extreme - Givenchy took everything I love about Pi and made it just slightly darker, richer and with a focus on leather. Not radically different but definitely on my wishlist for Santa! | |

| | |
| --- | --- |
| M. Micallef Akowa - This is the first Micallef fragrance that I absolutely fell in love with; Nejman and Astier's blend of orange blossom and cocoa recalls the sadly discontinued Rochas Man but with greater depth and complexity. Stunning! | |

Dr. Marlen Elliot Harrison

Fragrantica Writer & Editor
Executive Editor
Fragrantica.com

Dr. Marlen Elliot Harrison's journalism in the fragrance industry... more
__________________________________________________________
Serguey Borisov

Fragrantica Writer

Serguey Borisov writes about perfumes for GQ.ru and Vogue.ru, and contributes on the subject for glossy magazines... more

 

| | |
| --- | --- |
| | My highly subjective choice was based upon my temporal bias to gourmands and soft sentimental perfumes. I love L`Extase Nina Ricci, which is made of sweet benjoin under the sultriest rose. |

| | |
| --- | --- |
| | White Puredistance is the very first perfume my beloved daughter Anna chose by her smile from the hoardes of my bottles and samples. And yes, it is a delicious perfume with a weightless touch of musk. I trust my baby. |

| | |
| --- | --- |
| | Eutopie No9 is another example of comfort scents I found very appealing this year. It's a freshreshing and sweet  prepossessing fougere. |
__________________________________________________________ 
| | |
| --- | --- |
| Mon Exclusif Guerlain - In the wave of gourmand and very sweet fragrances associated with food that promise us happiness, I choose this one for its perfect balance of butter, almonds, iris and lavender. | |

| | |
| --- | --- |
| I really adore Italy, so XJ 1861 Naxos Xerjoff is love from the first smell. It's like a fragrant call to pack my bags and travel to Sicily. Lavender, tobacco, honey and citruses are perfectly blended. | |

| | |
| --- | --- |
| Arabesque belongs to luxurious The Merchant of Venice collection with an amazing plum note blended with a balsamic and very warm mix of tobacco, cinnamon and tonka beans. This fragrance is so intensive, delicately sweet and dark, suitable for winter and long walks in the snow. | |




Sandra Raicević Petrović

Fragrantica Writer & Editor
Executive Editor
Punmiris.com

Sandrina started her work at Fragrantica from its very beginning of the site... more

 
__________________________________________________________
  
Eugeniya Chudakova

 Fragrantica Writer,
Executive Editor
Fragrantica.ru

Eugeniya joined Fragrantica team in 2013 to work on perfume news and reports from perfume events. more

| | |
| --- | --- |
| | The best fragrance of the year as I point out  to everyone - Romanza Victorian Narcissus by Masque Fragranze. It's an amazing civet-floral with the rich and multifaceted scent of a natural narcissus absolute and a great animalic accord. |
__________________________________________________________
 
| | |
| --- | --- |
| Tiziana Terenzi Ursa: the unlikely marriage of a very dirty oud with the smell of sea water is what makes this perfume so rich and unusual. The complexity and originality of Ursa doesn't stop it from being extremely comfortable and warm without too many concepts or intellectual effort. | |

| | |
| --- | --- |
| Homoelegans Quality of Flesh: Extremely bold and agressively animalic. The smell of sex and body heat. And then a pineapple top note to freshen it up. This is absolutely not safe to wear. Too bold for the office, too dangerous for a night out, but in the end, that depends on your intentions. | |

Antonio Alessandria Fleurs et Flammes

: this is another proof that perfumery is contemporary art. The evocation of a place and a time, the depiction of life and death, the epic explosion of flowers, minerals and spices. Antonio created an effervescent floral with a vintage soul within a contemporary language.

Miguel Matos

Fragrantica Writer,
Executive Editor Fragrantica.com.br

Miguel likes to see himself as a fragrance curator, investigating the possibilities of perfume as contemporary art

... more
__________________________________________________________


Jodi Battershell

Fragrantica Writer & Editor

An appreciator of fine fragrances since childhood, she tried her hand at natural perfumery and fragrance-mixing for a number of years more

| | |
| --- | --- |
| | Dame Perfumery Scottsdale Dark Horse: this one has become my new go-to fragrance--for work, for day or night, for whenever I need to smell great and don't have a lot of time to think about it. |

| | |
| --- | --- |
| | Tauerville Incense Flash: my favorite of the Tauerville scents. Dry as a bone, smoky, slightly bitter, it pulls several ingredients I like from other Tauer Perfume creations. |

| | |
| --- | --- |
| | Blackbird Broken Glass: this one has been doing a slow burn into my consciousness since I first sniffed it in July. It's such a postmodern take on a floral fragrance. |
__________________________________________________________
| | |
| --- | --- |
| Pichola Neela Vermeire Creations. The vision of a verdant lake emerges beneath the canopy of a land immersed in spice. Green floral touches mingle with the saturated colors of cardamom and cumin. Of gold and shocking pink. Of mysticism and pure pleasure. Of a suspended moment in time. | |

Misia Chanel Les Exclusifs.
The performance is about to begin. Lipstick and powder smells floating behind the curtain. Violets and rose. Last minute corrections. The show must go on.

Elena Vosnaki

Fragrantica Writer & Editor

Elena Vosnaki is a historian and perfume writer from Greece. She is the founder and editor of Perfume Shrine... more
__________________________________________________________
 
Ida Meister

Fragrantica Writer

Ida Meister has been an avid collector and sniffeuse for over 40 years. She adores consulting and collaborating with niche... more

 

Mendittorosa Sogno Reale:

Exquisitely animalic, briny as Venus arising glistening from the sea, gentle as a baby's breath and beyond beautiful, Sogno Reale is creature comfort par excellence married to sophistication.

DSH The Voices of Trees:

Dawn captures the essence of what it is to be sylvan, photorealistically. The sense of well-being it engenders is awe-inspiring and very authentic.

No fragrance has ever sung to me as this does.
__________________________________________________________


| | |
| --- | --- |
| Sensual & Decadent by Laurent Mazzone - flowing raspberry jam, hot caramel and incense. Laurent is one of the few art directors whose experiments with sensuality aren't causing my ironic smile. | |

| | |
| --- | --- |
| Shermine by Huitieme Art. Actually, it has everything that makes me love Pierre Guillaume's signature: a fine play with gourmands, feeling the texture of the fragrance and its lazy iridescence. Pure love! | |

| | |
| --- | --- |
| Love at first sigh, transparent rhubarb, figs and a bit of smoky, biting cypress branches - all of it is in Idyllwild by Ineke. An incredibly bright and beautiful fragrance. | |

Juliett Ptoyan

Fragrantica Writer & Editor

Juliett Ptoyan is a perfume journalist who collaborates with several glossy magazines... more
__________________________________________________________
 
Bella van der Weerd

Fragrantica Editor

Bella van der Weerd studied Communications at the University of Groningen, the Netherlands... more

| | |
| --- | --- |
| | Nina and I have a long history and now look at L`Extase: made of two kinds of accords; the first one with white petals, rose and pink pepper, the other more sensual and warm with Siamese benzoin, Virginian cedar, musk and amber. And then the gorgeous bottle. |

| | |
| --- | --- |
| | Mod Noir Marc Jacobs: another stunning bottle and as for the notes: dewy greens with citrusy nuances, fresh gardenia petals, magnolia, water lily and tuberose, a creamy musk base, with an unusual combination of orange blossom and nectarine that leave a delicate floral-fruity trail.....I'm picturing paradise! |

| | |
| --- | --- |
| | Paris Premieres Roses 2015 Yves Saint Laurent: the 2015 Premieres Roses edition seems to be perfectly adjusted to my more fresh and flowery preference these days, with still a trail of the typically Paris rose to feed my nostalgia for this perfume. |
__________________________________________________________
 
| | |
| --- | --- |
| Byredo Rose of No Man's Land: A truly surprisingly bright and yet also sombre rose that sparkles in an usual setting of amber and pink pepper. It also manages to be narrative, blending a unexpected tribute to bravery during the first World War into a lovely scent-tale. | |

| | |
| --- | --- |
| Miu Miu: I was so delighted by this spicy little jasmine that it felt very niche despite its broad release. It's not often we see a jasmine-prominent perfume marketed to younger women, and I applaud this step to bring a mature scent to younger sensibilities. | |

| | |
| --- | --- |
| Nomaterra New Orleans Datura: One of the richest, deepest and most velvety of flower-inspired perfumes I've smelled all year. It's a tribute to the trumpet flowering vine, it's blended with nuts, spices, cognac and olibanum to make a deep impression on the skin. | |

John Biebel

Fragrantica Writer

John Biebel is a painter, musician, writer and software designer currently living and working in Boston, MA...  more
__________________________________________________________
Elena Knezevic

Fragrantica Editor-in-Chief

Elena Knezevic founded Fragrantica together with Zoran Knezevic in 2007.. more

| | |
| --- | --- |
| | Iris Cendre Naomi Goodsir: A smoky, earthy, leathery, elegiac and intellectual iris. Not even a trace of smile here. It is not a perfume, but a personality to try on. |

| | |
| --- | --- |
| | Idyllwild Ineke: This green woody perfume is multidimensional and very uplifting. A good opposition to Iris Cendre. I appreciate its complexity. This is a perfume of a landscape seen from a helicopter. |

| | |
| --- | --- |
| | Romanza Masque: I love the natural aroma of narcissus. A love/hate and so complex raw material. Romanza is one of the closest to it. Its perfumer played with strong animalic nuances with a breathtaking grace... |
__________________________________________________________
Editor Jodi Battershell discusses the unique appeal of our latest, Y06-S, and calls it "intriguing," for a start.
The Unique Appeal of Blackbird's Y06-S
By Jodi Battershell | December 23, 2017
Blackbird is an edgy design house from Seattle. Probably known best for their world-class incense blends, the brand also offers scarves, a skin care line, tea and a series of artistic perfumes bearing unusual names and original compositions. I've tried and loved several creations from this brand—chilly iris-and-incense-y Triton; woody and smoky Targa; fractured floral Broken Glass. Considering one of their most popular fragrances is named Pipe Bomb (and it's so beloved it got an Intense formulation in 2015), new fragrance Y06-S, with its what-the-hell name and intriguing mix of banana, electronics, agarwood, jasmine and milk notes, was sure to be nothing if not interesting. 
Y06-S (which Blackbird have informed us is pronounced "why zero six dash ess") doesn't disappoint. It's completely unique and yes, you can smell the "electronics" note, but I'm pleased to report the fragrance is also completely wearable. The only folks who might be warned away from this one are the jasmine-haters. If you're a jasmine-lover like me, especially natural jasmine with its complex, narcotic and indolic facets intact, you'll find Y06-S an absolute delight.
The "electronics" component (and I have no idea what the notes are that compose this element of the fragrance—not even a guess) appears just after spritzing the fragrance. They're akin to the smell of warm plastic. I once had a new stereo installed in my car and these notes remind me of the scent of that radio/cassette player (it was the 80s, kids) after a Saturday night spent cranking out the tunes while cruising up and down the main drag of my little town. It's a lingering, deliberately inorganic-smelling but not unpleasant aroma, with a slightly fuzzy edge.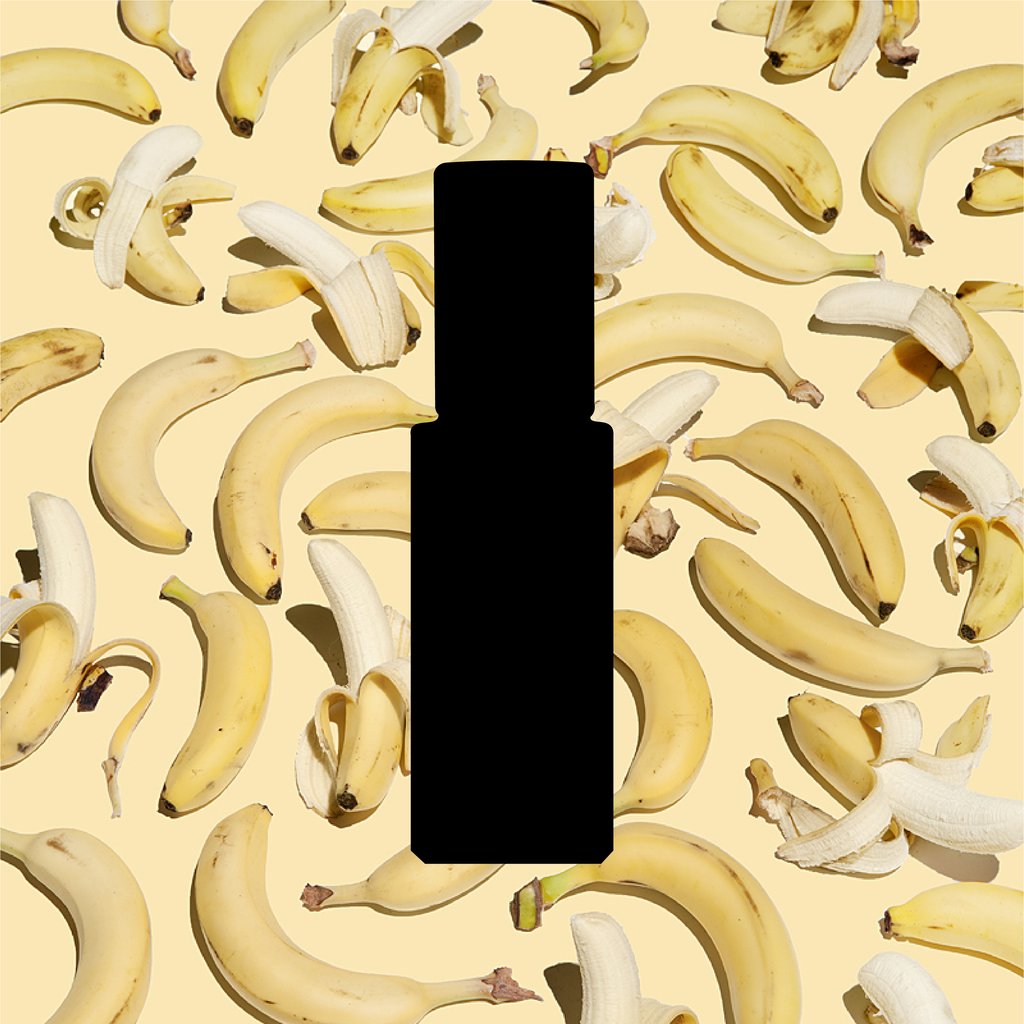 Not to be outdone, the banana and jasmine are already competing for attention as soon as they're out of the bottle. The electronic components fade and the fruit and flower take center stage and hold it for a good four to five hours. Which is not to say this is a fruity-floral fragrance. It is far from it, with the banana leaning more green than sweet, and with no additional flowers surrounding the jasmine. (My nose finds the dry prickle of vetiver, too, though it's not listed as a note.) The banana peels away as the fragrance dries down, with pleasant floral soapy aspects emerging at the six hour mark. The last traces of jasmine persist to the very end as the fragrance fades to a soft woody-floral.
Having tried much of the Blackbird collection at this point, I find Y06-S fits comfortably with the brand's unisex aesthetic while simultaneouisly taking it in a new direction. Blackbird fragrances are distinctive among the sweet and fruity fragrances that continue to dominate the fragrance market. The brand seems to specialize in the woody, earthy and resinous notes that burn well in incense and many of their perfume compositions use these notes as a jumping-off point, but with recent releases like Y06-S and 2016's Anemone (a striking aquatic oriental fragrance in a category all its own), they show us there is still something new to be done with those ancient woods and resins. Y06-S is a great fragrance for jasmine fans and banana fans, but also has something to offer the woody/oud fans, too.  (Y06-S is available as a 1 ml sample for $5, and in 10 ml, 30 ml and 60 ml eau de parfum atomizers, from $58.00 to $138.00.
LIMITED EDITION GIFT SETS FOR THE HOLIDAY
Blackbird are also offering a cool thing on their website: limited edition gift sets featuring 10 ml pairings of their fragrances in rollerball format. The quirky names suggest something about possible recipients and predilections (such as "Weird Wife" which features Y06-S with Anemone and "Smokey the Bear" which pairs smoky/incense-laden fragrances Pipe Bomb and Targa). My recommendation: "Lemonade," featuring Y06-S and Broken Glass, a wearable abstract floral that I chose as one of my Top Three releases for 2015. The gift sets retail for $76. Quantities are limited and available only through December 2017.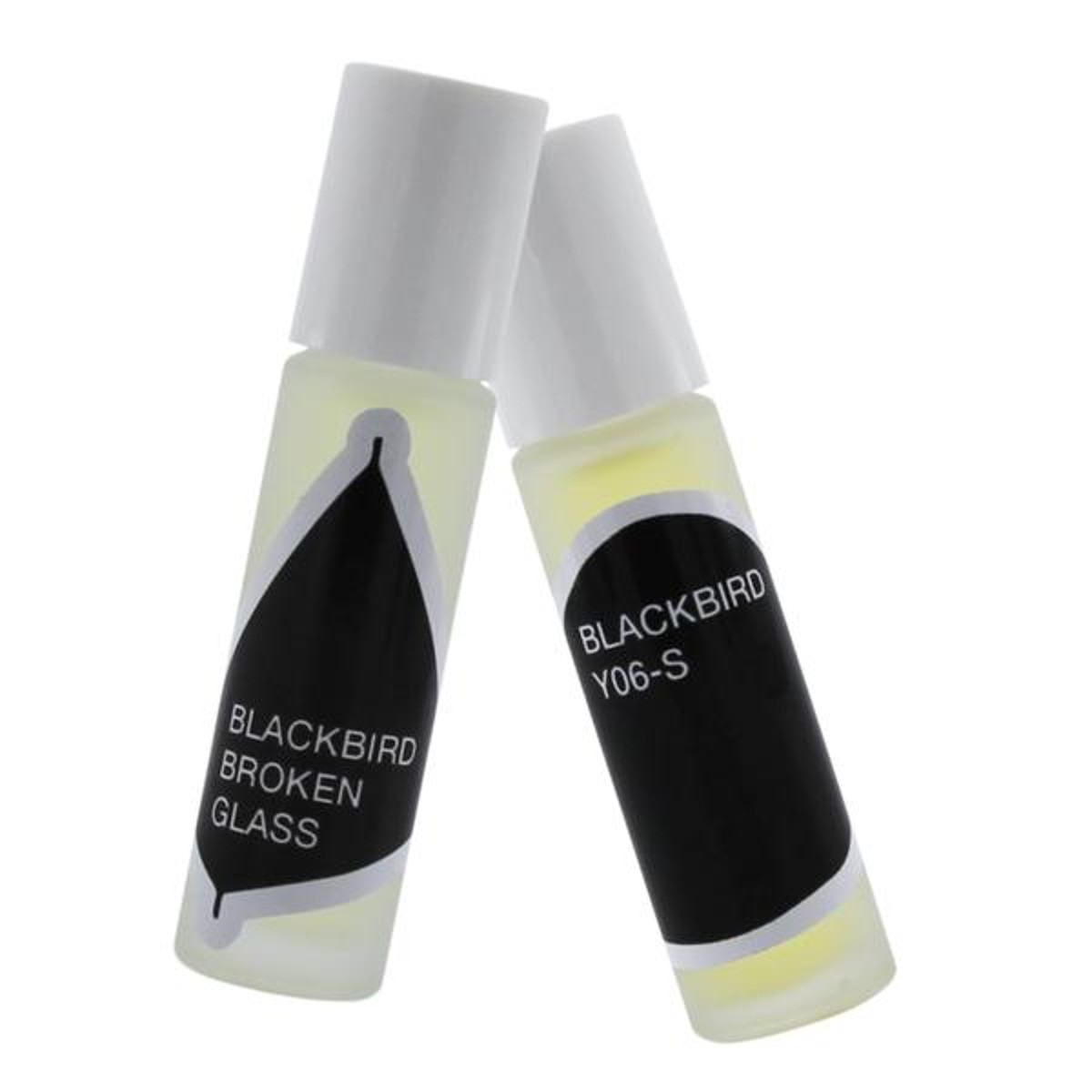 Thank you to Blackbird for the opportunity to try Y06-S. Please visit the official website of Blackbird to learn more and purchase. Samples of incense, perfume and skin care products are available, with options for international shipping. Blackbird fragrances and incense are also carried at a large number of stockists across the United States as well as China, Canada, Australia and select European countries.