Love Incense - COLD CAVE x BLACKBIRD
SCENT NOTES: ivy, rose, honey, tobacco, rhododendron
We danced to your songs in our store while you burned our incense at your shows. Unrequited love, only to meet in death. 
To commemorate the Love Comes Close / Death Comes Close shows at Hollywood Forever Cemetery and the kickoff of the Cold Cave 2019 tour, we created these incense with Cold Cave as a true collaboration of art, music, love, and mortality. LOVE is based in Ivy, Rose and Honey, while Death is based in Sage, Marble and Leather. 

- 20+ cones per tin
- Burn time: 20 min approx. 
- Scent lasts 2-4 hours (medium size room)
- Lid may act as burner
- Reusable packaging 
- Travel-friendly 
- Handmade 
Customer Reviews
01/13/2022
L. Venado

United States
Very lovely
Violet, wintergreen, sweet tobacco
10/25/2021
adam g.

United States
A perfect collaboration
Some collaborations seem like just a name with no real connection to the artist. This is not the case here. This is on brand for Cold Cave. The perfect incense for Fall/Winter. I am very impressed with the depth of fragrance in both LOVE & DEATH. These are powerful and will fill a space quickly and linger for quite a while. Exactly what I was looking for. It's a triumph.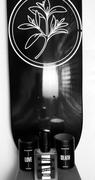 Thank you, Adam. We love collaborating with Amy and Wesley. We share an optimistic darkness.
08/27/2019
Abby J.

United States
Love it
I've burned all their scents they currently offer and am pleased with them all!
06/19/2019
Liz M.

United States
Super nice!
I really like it. Subtle, rosey, green, vanilla-y tobacco. Tempted to burn this during my wedding, but hesitant since it's limited edition. If y'all want to hook me up with a signature wedding scent, I'd be super excited!
Wonderful!
This is perfect for spring and summer. It smells so light and sweet with a bit of green. I'm a little sad it's only a limited edition thing because rationing is going to be hard. The lingering smell just makes me want to burn another cone because it smells so delicious.