For the new recruit or the seasoned veteran, the BLACKBIRD Incense Discovery Set allows you to follow along with our stories and choose your own adventure.

TWO CONES OF EACH SCENT: Ai, Gorgo, Izba, Lone, Mars, Muru, Ploom, Targa, and Tilde

"We the mortals touch the metals,
the wind, the ocean shores, the stones,
knowing they will go on, inert or burning,
and I was discovering, naming all the these things:
it was my destiny to love and say goodbye."
-Pablo Neruda
Customer Reviews
01/11/2021
Eric L.
United States
Nostril euphoria
Great way to find out which scents I like, and good news is I like a majority of them.
01/10/2021
Roanna F.
United States
Amazing quality, amazing fragrance!
I'm really picky about incense and Blackbird makes the finest quality incense I've ever had the pleasure of purchasing. The scents are complex but not cloying. They're rich, but not overwhelming. I bought the sample pack, and I can't pick a favorite. They're all winners!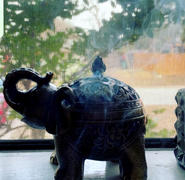 12/26/2020
Joan Z.
United States
Unusual scents
This incense has some unique over- and undernotes. Targa and Mars are my favorites thus far. And, I must say that customer service is above and beyond! Thank you.
12/15/2020
Kara S.
United States
Smelled. So. Good.
I used to like incense but gave up on them bc the scent didn't last long enough or it was a mixed bag on if the smell was good or awful. But when I ordered this set, there were four or five that I loved SO much that I spent $150... on incense... to get more of them. And that is a lot. So there's your review.
12/07/2020
Elysa R.
United States
Favorite incense
I am very sensitive to smell and dislike most perfumes and incense. It was so much fun to be able to try all of Blackbird's offerings. Still working my way through it. I burn one and share the other with a friend