Sold Out
Incense Discovery Set
For the new recruit or the seasoned veteran, the BLACKBIRD Incense Discovery Set allows you to follow along with our stories and choose your own adventure.

TWO CONES OF EACH SCENT: Ai, Gorgo, Izba, Lone, Mars, Muru, Ploom, Targa, and Tilde

"We the mortals touch the metals,
the wind, the ocean shores, the stones,
knowing they will go on, inert or burning,
and I was discovering, naming all the these things:
it was my destiny to love and say goodbye."
-Pablo Neruda
Customer Reviews
02/17/2021
Demetra H.

United States
What a lovely surprise! My new go to incense
I literally googled safe incense or something like that and found a list of eco-friendly safe-ish incense and Blackbird was one of the top 10 companies. First off the super-sleek packaging got me right off the bat. Then I read through many of the scents and their explanations and couldn't wait to try them. We got a sampler pack and haven't come across one scent we don't love. Will definitely order again.
01/25/2021
Abby A.

United States
Incense Discovery Set - Great Way to Explore!
I ordered the Incense Discovery Set as a way to find which scents I loved the best. Overall I was impressed with the quality of the incense, it burned nicely and emitted the perfect amount of smoke and smell. I identified a couple of scents (Targa, Ploom, AI) that I will definitely be re-ordering.
01/11/2021
Eric L.

United States
Nostril euphoria
Great way to find out which scents I like, and good news is I like a majority of them.
01/10/2021
Roanna F.

United States
Amazing quality, amazing fragrance!
I'm really picky about incense and Blackbird makes the finest quality incense I've ever had the pleasure of purchasing. The scents are complex but not cloying. They're rich, but not overwhelming. I bought the sample pack, and I can't pick a favorite. They're all winners!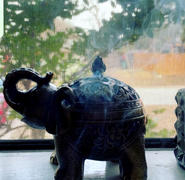 12/26/2020
Joan Z.

United States
Unusual scents
This incense has some unique over- and undernotes. Targa and Mars are my favorites thus far. And, I must say that customer service is above and beyond! Thank you.